Tarkashi crochet Table Runner: Exquisite Handcrafted Elegance
A Tarkashi crochet table runner is a beautiful and intricate piece of handcrafted art that adds a touch of elegance and sophistication to any dining table or home decor. Tarkashi, which means "metal inlay," is a traditional craft from India known for its delicate and ornate metal wirework. When combined with crochet, it creates a stunning fusion of texture and design. In this blog post, we'll explore the beauty of Tarkashi crochet table runners and how you can create your own exquisite piece to enhance your table settings.
The Artistry of Tarkashi Crochet
Tarkashi crochet combines the traditional techniques of metal wirework with the art of crochet. The metal wires, typically silver or gold-colored, are meticulously woven into intricate patterns and motifs that are then integrated into the crochet fabric. The result is a table runner that showcases the beauty of both metalwork and crochet, creating a truly unique and visually striking piece.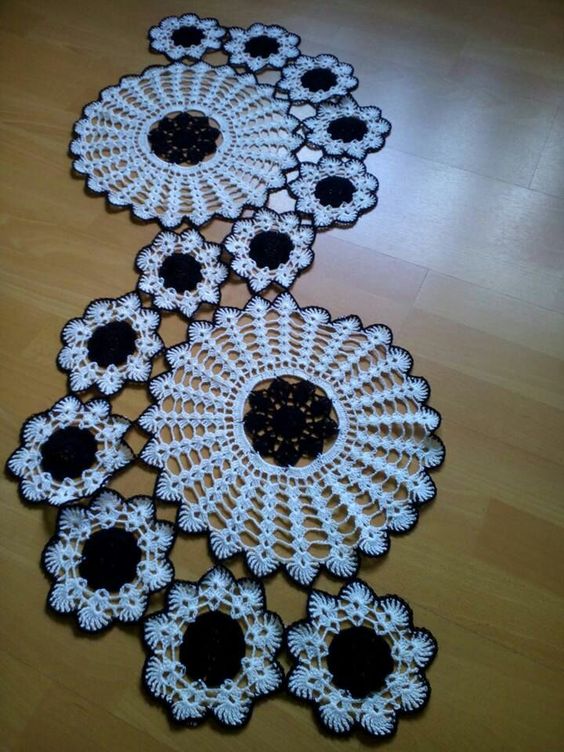 Materials You'll Need
To create your own Tarkashi crochet table runner, gather the following materials:
Crochet thread or fine-weight yarn in the color of your choice
Metal wire in silver or gold color (typically used for jewelry making)
Crochet hooks suitable for your chosen thread or yarn weight
Scissors
Yarn needle for weaving in ends
Optional: beads, sequins, or other embellishments
Creating Your Tarkashi Crochet Table Runner
Follow these general steps to create your own Tarkashi crochet table runner:
Choose a crochet pattern or design that will serve as the base for your table runner. You can select a simple lace pattern or a more elaborate motif, depending on your skill level and desired look.
Decide on the placement of the metal wirework. This can be along the edges of the runner, as accents within the crochet fabric, or both.
Begin crocheting the base of the table runner using your chosen crochet pattern and yarn. Follow the pattern instructions carefully, paying attention to stitch counts and shaping.
As you work on the crochet fabric, incorporate the metal wire into the design. This can be done by weaving the wire through the stitches or by creating loops and motifs using the wire alone.
Experiment with different techniques, such as wrapping the wire around the crochet stitches, creating openwork designs with the wire, or using the wire to create three-dimensional elements.
Continue crocheting and incorporating the metal wire until the table runner reaches your desired length.
Once the crochet and metal wirework are complete, weave in any loose ends using a yarn needle.
Optional: Add embellishments like beads or sequins to enhance the beauty and sparkle of your Tarkashi crochet table runner.
A Timeless Heirloom
A Tarkashi crochet table runner is not only a stunning addition to your table settings, but also a cherished heirloom that can be passed down through generations. Its intricate craftsmanship and timeless beauty make it a centerpiece that will be admired and cherished for years to come.
Caring for Your Tarkashi Crochet Table Runner
To keep your Tarkashi crochet table runner in pristine condition, handle it with care. Gently hand wash it in cold water using a mild detergent, and lay it flat to dry. Avoid wringing or twisting the runner to prevent any damage to the delicate metal wirework. Store it in a clean and dry place, away from direct sunlight, to preserve its beauty.
Create an Exquisite Table Setting
A Tarkashi crochet table runner elevates any table setting, transforming it into a work of art. Whether you're hosting a special occasion or simply want to add a touch of luxury to your daily meals, the intricate details and elegance of the Tarkashi crochet table runner will create a lasting impression.Let your creativity and craftsmanship shine as you create your own Tarkashi crochet table runner. Enjoy the process and the satisfaction of bringing this exquisite art form to life.Happy crocheting and may your table be adorned with beauty and grace!