Crochet Sunflower Bath Pouf: A Sunny Addition to Your Bath Time Routine
Creating a
crochet
sunflower bath pouf is a delightful and practical project that brings a burst of sunshine into your bathing experience. This handmade bath accessory not only adds a touch of beauty to your bathroom but also provides a gentle exfoliating texture for a rejuvenating shower or bath.
Materials You'll Need
Before you begin crocheting your sunflower bath pouf, gather the following materials:Soft and absorbent cotton yarn in yellow for the sunflower petals and brown for the center. Crochet hook suitable for your yarn weight. Scissors. Tapestry needle for sewing and weaving in ends.
Crocheting the Sunflower Bath Pouf
Follow these steps to crochet your sunflower bath pouf:
Create the Center: Start with the brown yarn and crochet a magic ring. Work single crochet stitches into the ring, gradually increasing the stitches to form a flat circle. This will be the center of your sunflower.
Form the Petals: Switch to the yellow yarn and begin crocheting the sunflower petals around the brown center. Each petal can be made by working a sequence of double crochet stitches, chains, and slip stitches to create a pointed petal shape. Repeat this process around the center to form the sunflower petals.
Stuff and Shape: Before closing the sunflower, stuff it with fiberfill or a bath pouf sponge to give it a full and fluffy appearance. Adjust the shaping of the petals as needed to achieve a realistic sunflower look.
Close the Pouf: Finish crocheting the sunflower by closing the last petal and weaving in the ends securely.
Optional: Attach a loop or ribbon to the top of the sunflower pouf for hanging and storage.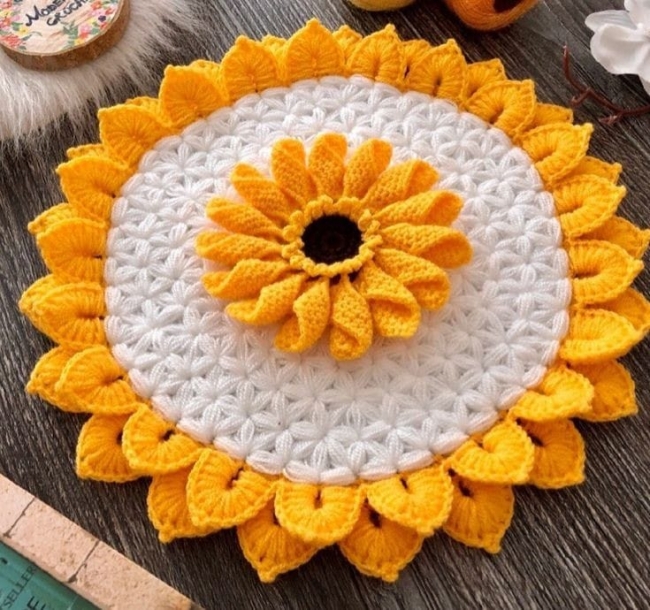 Enjoy Your Sunny Bath Time
Once your crochet sunflower bath pouf is complete, it's time to enjoy its benefits during your bath or shower. The soft and textured surface of the pouf will gently cleanse and exfoliate your skin, leaving you feeling refreshed and invigorated.Crocheting a sunflower bath pouf is a delightful and rewarding project that combines the beauty of sunflowers with the practicality of a bath accessory. The warmth and charm of your handmade sunflower will brighten up your bathroom and make your bath time a sunny and enjoyable experience.So, pick up your yarn and hook, and get ready to crochet a sunflower bath pouf that adds a touch of sunshine and joy to your daily bathing routine.Happy crocheting!