Cold oreo cake recipe
1 roll package of Marías biscuits
100 grams of melted unsalted butter
190 grams of cream cheese
1 cup of whole milk
1 can of condensed milk
1 tablespoon of vanilla essence
10 g. gelatin
6 tablespoons of water
14 Oreo cookies, chopped
Removable mold preferably 14 cm, you can use a larger diameter and it will be shorter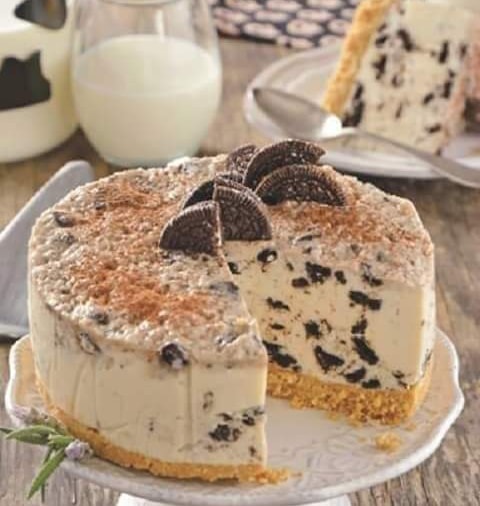 Directions:
In a blender or food processor, grind the Marías biscuits, add the butter and mix until a homogeneous paste is left. Place the biscuit mixture in a removable mold with waxed paper and spread and compact it so that the bottom is even.
Refrigerate 30 minutes.
Meanwhile, blend the cream cheese, milk, condensed milk, and vanilla essence.
In a small container, dissolve the gelatin with the water to hydrate it, once hydrated, heat it in the microwave for 10 seconds,
  Add to cream cheese mixture. Blend 1 min.
Then add the Oreo cookies and stir without blending
Take the mold out of the fridge and pour the mixture
Refrigerate for 2 hours or until firm.
Decorate with more Oreo cookies