Crochet Baby Sleeping Bag for Cozy Slumber
A baby sleeping bag is a wonderful accessory to keep your little one snug and secure during sleep time. In this tutorial, we'll guide you through the steps to
crochet
a soft and comfortable baby sleeping bag. With its adorable design and practicality, this sleeping bag will provide a cozy haven for your baby's peaceful slumber.
Materials Needed:
Worsted weight yarn in your preferred color (e.g., pastel blue, soft pink)
Crochet hook suitable for the yarn weight (suggested size: 5.0 mm)
Scissors
Yarn needle
Step 1: Creating the Base:
Start by creating a chain that matches the desired length of the sleeping bag. This length should comfortably accommodate your baby's height. Join the last chain with the first chain using a slip stitch to form a ring.
Step 2: Working the Body:
Round 1:
Chain one, work single crochet stitches around the ring. Join with a slip stitch to the first single crochet.
Rounds 2-3:
Chain one, work one single crochet in each stitch around. Join with a slip stitch.Repeat Round 2 until you reach the desired length of the sleeping bag. Adjust the number of rounds accordingly, considering the size and age of your baby.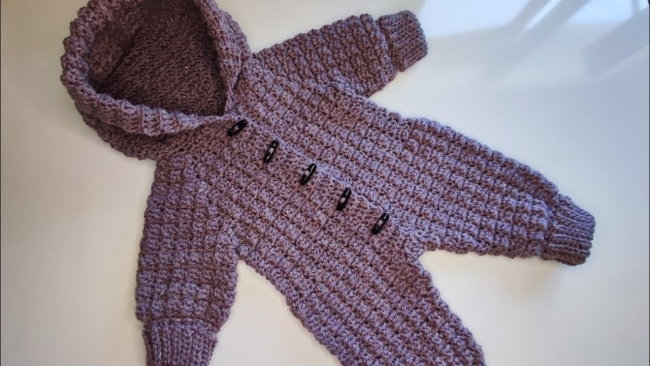 Step 3: Adding Straps and Buttons:
To create the straps, chain a length that will comfortably fit over your baby's shoulders. Attach the straps at the sides of the sleeping bag, evenly spacing them to ensure a secure fit. Sew or crochet the straps securely in place.Next, create buttonholes on one side of the sleeping bag. These buttonholes will allow for easy access and adjustments. Determine the desired number of buttonholes and evenly space them along the edge. Work a row of chain stitches, making sure they are wide enough to accommodate your chosen buttons.Sew the buttons on the opposite side of the sleeping bag, aligning them with the buttonholes. This will provide a secure closure for the sleeping bag.
Step 4: Finishing Touches:
Check the size of the sleeping bag against your baby's measurements to ensure a proper fit. Make any necessary adjustments before finishing off any loose ends and trimming excess yarn.For added embellishments, you can crochet a decorative edging around the top opening or add cute appliques such as hearts, stars, or animals using contrasting yarn colors.You have successfully crocheted a cozy and adorable baby sleeping bag. Your little one will enjoy the comfort and security it provides during sleep time. Enjoy the peace of mind that comes with knowing your baby is safely tucked into a handmade sleeping bag made with love.