Crochet Baby Ballet Shoes with a Touch of Elegance
Crocheting baby items is a joyous and rewarding endeavor, especially when it involves creating adorable ballet shoes for your little one. In this tutorial, we'll guide you through the steps to
crochet
baby ballet shoes adorned with delicate pearl embellishments. These charming shoes will add a touch of elegance to your baby's ensemble while keeping their tiny feet cozy and stylish.
Materials Needed:
Baby weight yarn in your preferred color (e.g., pastel pink, cream)
Crochet hook suitable for the yarn weight (suggested size: 3.5 mm)
Small pearl beads (approximately 10-12 beads)
Embroidery thread or thin yarn in a coordinating color
Sewing needle
Scissors
Step 1:
Creating the Shoe Base:
Start by crocheting the sole of the ballet shoes. Begin with a chain that matches the length of the baby's foot, plus a few extra chains for ease. Work single crochet stitches in each chain, creating a rectangular shape. Join the last stitch with the first stitch using a slip stitch.
Step 2:
Crafting the Shoe Upper:
To create the upper part of the ballet shoe, work rows of single crochet stitches on one of the shorter sides of the sole. Repeat the rows until you reach the desired height for the upper part of the shoe, which should cover the baby's instep.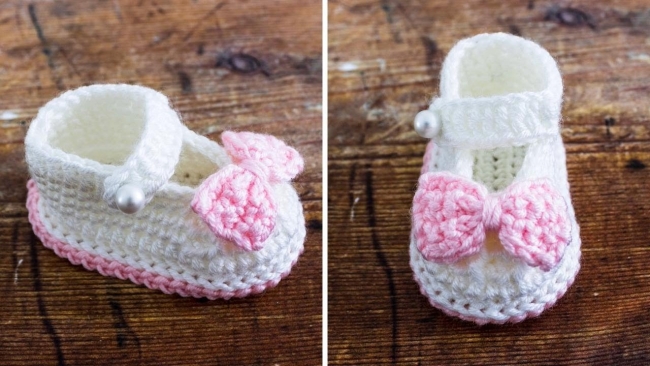 For the heel portion, decrease stitches gradually by working single crochet two stitches together at the beginning and end of each row until the desired narrowing is achieved.
Step 3: Adding Pearl Embellishments:
Thread the sewing needle with embroidery thread or thin yarn. Knot one end securely. Starting at one side of the shoe upper, carefully sew the small pearl beads onto the crochet fabric, evenly spacing them along the edge of the upper. Continue sewing the pearls until you reach the other side, ensuring they are firmly attached.Trim any excess thread or yarn and securely knot the end to prevent unraveling.
Step 4: Finishing Touches:
Fold the heel portion of the shoe and sew it to the sole, using whip stitches or a slip stitch, ensuring a snug and secure fit. Repeat the same process for the other shoe.Check the size of the shoes against the baby's feet and make any necessary adjustments before finishing off all loose ends and trimming excess yarn.You have successfully crafted a pair of crochet baby ballet shoes adorned with delicate pearl embellishments. These charming shoes are not only a cozy accessory for your little one but also a delightful keepsake to cherish. Enjoy watching your baby twirl and dance in these precious pearls of handmade love.