Salted Caramel Six-Layer Chocolate Cake recipe
IngredientsFor The Cake
Unsalted butter, room temperature, for pans
3 cups all-purpose flour, plus more for pans
3 cups granulated sugar
1 1/2 cups unsweetened Dutch-process cocoa powder
1 tablepoon baking soda
1 1/2 teaspoons baking powder
Coarse salt
4 large eggs
1 1/2 cups low-fat buttermilk
1/2 cup plus 2 tablespoons safflower oil
2 teaspoons pure vanilla extract
For The Caramel
4 cups granulated sugar
1/4 cup light corn syrup
2 cups heavy cream
Coarse salt
2 sticks cold unsalted butter, cut into tablespoons
For The Frosting
1/4 cup plus 2 tablespoons Dutch-process cocoa powder
2 sticks unsalted butter, room temperature
1/2 cup confectioners' sugar
Coarse salt
1 pound semisweet chocolate, chopped, melted, and cooled
Garnish: flaked sea salt, such as Maldon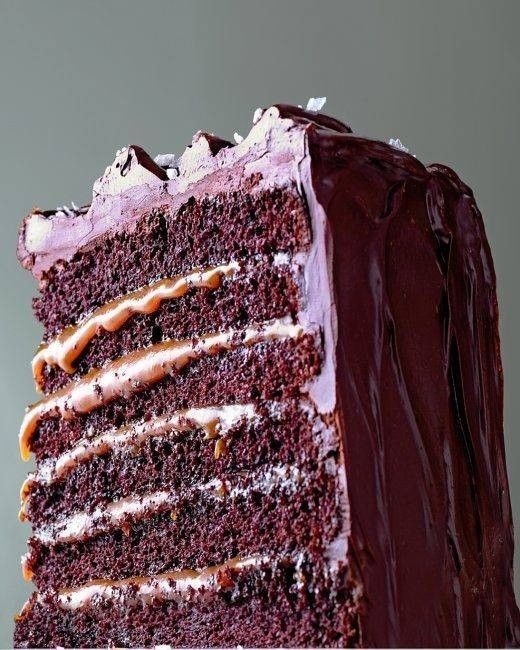 Directions
Preheat oven to 350 degrees. 
Make the cake: 
Butter three 9-inch round cake pans, and dust with flour, tapping out excess. Sift flour, granulated sugar, cocoa, baking soda, baking powder, and 1 1/2 teaspoons course salt into the bowl of a mixer. Beat on low speed until just combined. Raise speed to medium, and add eggs, buttermilk, 1 1/2 cups warm water, oil, and vanilla. Beat until smooth, about 3 minutes.Divide batter among pans. Bake until cakes are set and a toothpick inserted into the center of each comes out clean, about 35 minutes. Let cool in pans set on a wire rack for 15 minutes. Turn out cakes onto racks, and let cool completely.
Make the caramel: 
Combine granulated sugar, corn syrup, and 1/4 cup water in a medium saucepan over high heat. Cook, without stirring, until mixture is dark amber, about 14 minutes. Remove from heat, and carefully pour in cream (mixture will spatter); stir until smooth. Return to heat, and cook until a candy thermometer reaches 238 degrees, about 2 minutes. Pour caramel into a medium bowl, stir in 1 teaspoon coarse salt, and let cool slightly, about 15 minutes. Stir in butter, 1 tablespoon at a time. Let cool completely.
Make the frosting: 
Whisk together cocoa and 1/4 cup plus 2 tablespoons warm water in a bowl until cocoa dissolves. Beat butter, confectioners' sugar, and a generous pinch of coarse salt in a clean bowl with a mixer on medium speed until pale and fluffy. Gradually beat in melted chocolate and then cocoa mixture until combined. Let stand for 30 minutes before using.Trim tops of cakes using a serrated knife to create a level surface. Cut each in half horizontally to form 2 layers. Transfer 1 layer to a serving platter, and spread 3/4 cup caramel over top. Top with another cake layer, and repeat with remaining caramel and cake layers, leaving top uncovered. Refrigerate until set, about 1 hour.
Frost top and sides of cake in a swirling motion. Sprinkle with sea salt.
Cook's Note
To make this cake ahead of time: The caramel can be refrigerated for up to 3 days; bring to room temperature before using. Cake layers can be refrigerated for up to 3 days (they actually taste better when refrigerated and have a better texture for stacking). When finished, the frosted cake can be refrigerated for up to 3 days.