Roasting a turkey in a plastic oven bag offers several advantages compared to other methods:
Moisture Retention: 
The plastic oven bag creates a sealed environment that helps trap moisture and steam. This helps prevent the turkey from drying out during the cooking process, resulting in a juicier and more tender turkey.
Faster Cooking: 
Roasting a turkey in an oven bag can cook faster than traditional roasting methods because of the sealed and moist environment. This can save you time in the kitchen.
Easy Cleanup: 
Using an oven bag simplifies the cleanup process. Since the turkey and its juices are contained within the bag, there's less mess in the roasting pan. This can be especially convenient during busy holiday cooking.
Even Browning: 
The bag helps distribute heat evenly around the turkey, promoting even browning on the outside, which can lead to a more attractive presentation.
Flavorful Vegetables: 
When you add vegetables to the bag with the turkey, they absorb the delicious flavors and juices, resulting in tasty side dishes.
Reduced Basting: Because the turkey remains moist inside the bag, you may not need to baste it as frequently, reducing the amount of attention required during cooking.This mouthwatering roast turkey in a plastic bag pairs perfectly with a variety of sides, complementing its rich flavors. Consider serving it with classic holiday dishes such as buttery mashed potatoes, tangy cranberry sauce, savory herb stuffing, and roasted vegetables. For a refreshing touch, add a colorful salad or some creamy coleslaw. Don't forget warm dinner rolls or crusty bread to soak up the flavorful pan drippings. This recipe is sure to make your holiday feast a memorable one!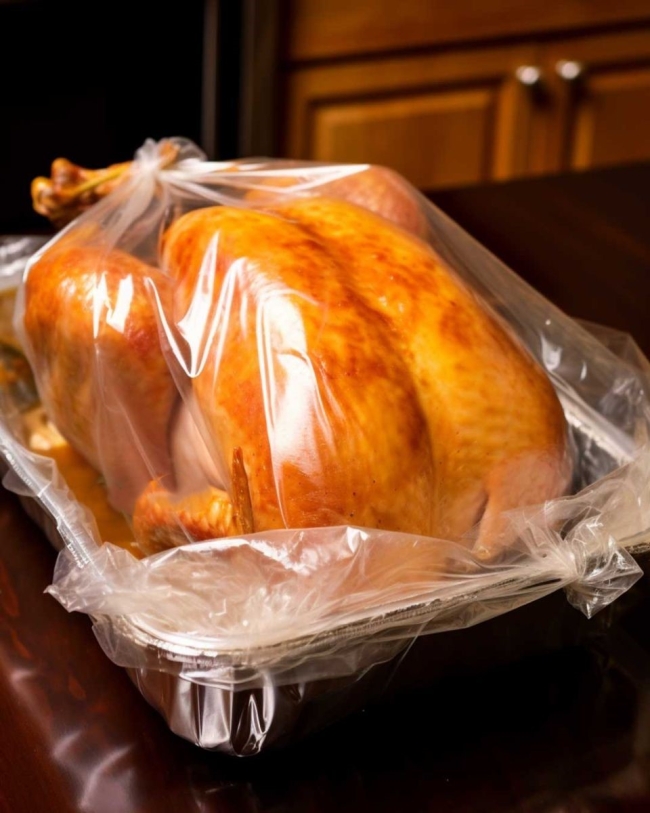 Recipe: Roast A Turkey In Plastic Bag
Ingredients:
1 whole, fully thawed turkey (12-24 pounds)
1 large oven-safe plastic bag
2/3 cup softened butter
Salt and pepper to taste
2 tablespoons dried herbs (such as thyme, rosemary, and sage)
4 garlic cloves, minced
1 white onion, roughly chopped
3 celery stalks, roughly chopped
2 carrots, roughly chopped
1 tablespoon flour
Pro Tip:
For a thorough turkey thawing, allocate one day in the refrigerator for every 5 pounds of turkey.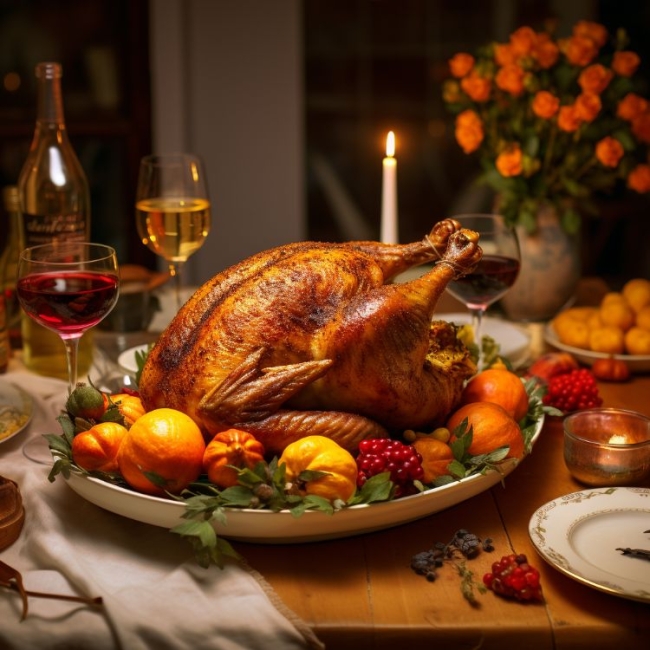 Instructions:
Preheat oven to 350°F and position the rack one level below center.
Mix butter, garlic, salt, and pepper.
Remove neck and giblets, tuck wings under or tie back.
Rub turkey with butter mixture.
Coat oven bag interior with 1 tbsp flour, add onion, carrots, celery, and turkey.
Seal bag, make small slits for steam, place in roasting pan.
Cook per turkey size (12-15 lb: 2-2.5 hrs, 15-20 lb: 2.5-3 hrs, 20-24 lb: 3-3.5 hrs) until internal temp reaches 165°F.
Rest for 20 mins. Then carefully remove the bag. Transfer turkey to a platter. 
Serve!I await your comments! Enjoy!