Peanut Butter Pie Recipe
IngredientsFor the crust:
1 pie crust single pie crust only
For the mousse:
½ cup cold water
1 envelope unflavored gelatin
1 cup creamy peanut butter
1 package cream cheese, softened 8 ounce
3 cups heavy whipping cream
1 cup granulated sugar
For the ganache:
½ cup milk chocolate
½ cup heavy whipping cream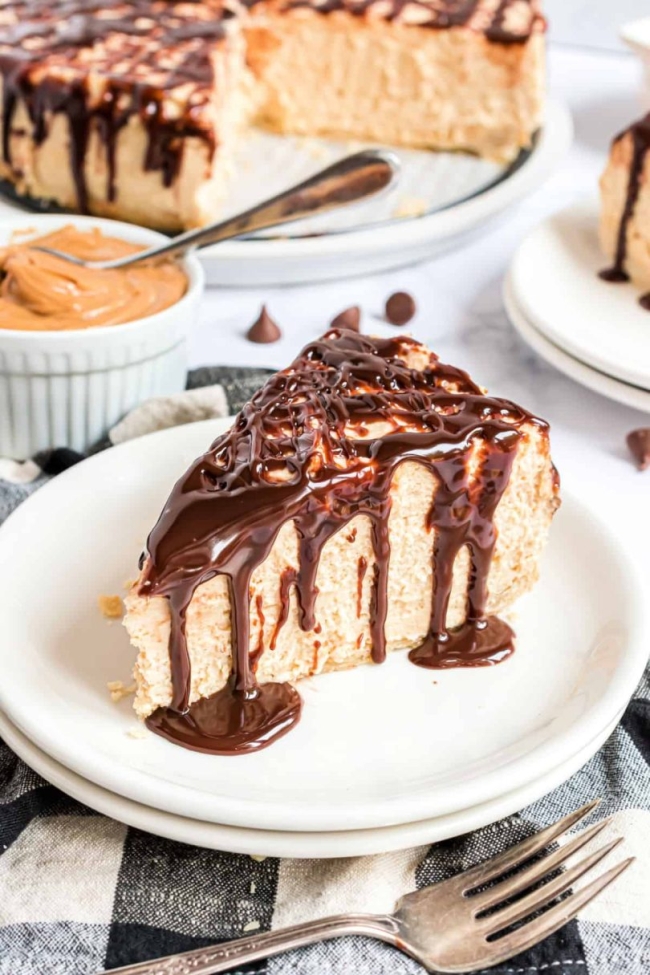 Instructions
Unroll pie crust and press into the bottom of a 9inch springform pan. Poke with a fork and bake according to package directions (for single crust recipe).Set aside to cool.For the mousse, pour cold water into a small saucepan.Sprinkle with gelatin. Allow to bloom (absorb water) for two minutes.Heat saucepan on low and whisk gelatin water for several minutes until completely absorbed and dissolved.Remove from heat.
In a large mixing bowl, beat cream cheese with peanut butter. Add gelatin mixture and beat for about 2 minutes.Set aside.In a clean and dry mixing bowl, beat heavy cream with sugar on high until soft peaks form (several minutes).Fold in peanut butter mixture and combine completely.Pour over cooled crust and refrigerate several hours (or overnight).To remove springform pan, use a plastic knife and run it along the edges.Release spring and life up. Pie should be set up nicely on the insert.For the ganache, combine the chocolate with the heavy cream in a microwave safe bowl.Heat for 30 seconds.Stir and heat an additional 30 seconds.Stir until smooth.Drizzle over pie.Serve immediately or return to refrigerator until ready to serve.Best eaten within 3 days.Enjoy.