Homamade bolillos recipe
Ingredients:
4 cups all-purpose flour
2 teaspoons active dry yeast
2 teaspoons salt
1 1/2 cups warm water
1 tablespoon sugar
1 tablespoon vegetable oil
Additional flour for dusting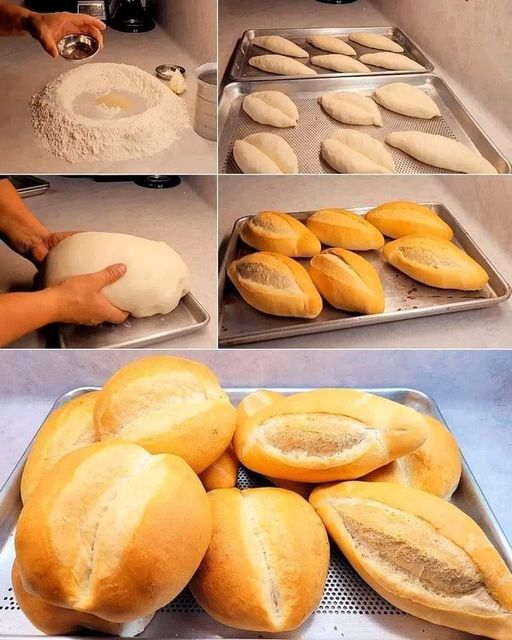 Instructions:
In a small bowl, combine the warm water, sugar, and yeast. Let it sit for about 5 minutes until the yeast becomes foamy.
In a large mixing bowl, combine the flour and salt. Make a well in the center and pour in the yeast mixture and vegetable oil.
Stir the ingredients together until a rough dough forms.
Transfer the dough to a floured surface and knead it for about 8-10 minutes until it becomes smooth and elastic. Add more flour if necessary to prevent sticking.
Shape the dough into a ball and place it in a greased bowl. Cover with a clean kitchen towel and let it rise in a warm place for about 1-2 hours or until it doubles in size.
Preheat your oven to 425°F (220°C). Line a baking sheet with parchment paper.
Punch down the risen dough and turn it out onto a lightly floured surface. Divide the dough into 8 equal portions.Take each portion and shape it into an oval-shaped roll, about 4-5 inches long. Place the rolls onto the prepared baking sheet, leaving some space between them.
Cover the rolls with a clean kitchen towel and let them rise for another 30 minutes.
Bake the bolillos in the preheated oven for about 15-20 minutes or until they turn golden brown and sound hollow when tapped on the bottom.
Remove the bolillos from the oven and let them cool on a wire rack.
Once the Homemade Bolillos are completely cooled, you can slice them open and use them for sandwiches, tortas, or enjoy them as a side to accompany your favorite Mexican dishes. They have a crusty exterior and a soft, fluffy interior, making them perfect for any occasion.