Gluten Free Lemon Cake Recipe
Ingredients
Wet:
3 eggs room temperature
1 3/4 cup fine granulated cane sugar
2/3 cup oil any plain oil works
1 3/4 cup milk dairy or non-dairy
1 tablespoon vanilla extract
4 tablespoons fresh lemon juice
1 teaspoon lemon extract
1-2 tablespoons lemon zest about 1 large lemon
Dry:
2 3/4 cup gluten free all purpose baking flour I used Bob's Red Mill 1:1
1 cup fine blanched almond flour
1 teaspoon baking soda
1 1/2 teaspoon baking powder
1/2 teaspoon salt
Lemon Buttercream
3/4 cup butter room temperature
2 tablespoons lemon juice
3 tablespoons milk dairy or non-dairy
1 tablespoons lemon zest or to taste
4 cups powdered sugar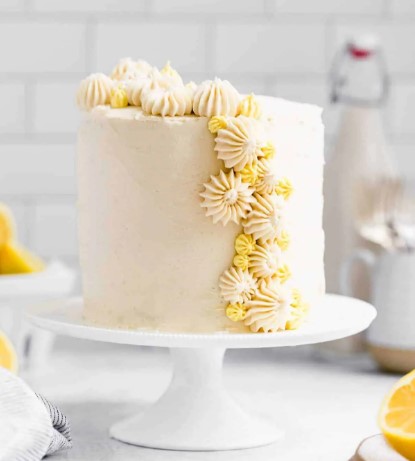 Instructions
Preheat the oven to 350 degrees Fahrenheit.
Line either one 9x13 pan or two 9 inch round pans or three 6 inch round pans with parchment paper just on the bottom. It helps to lightly oil the bottom then put the prepared parchment paper in so it sticks easily. Set aside.
In a large bowl or bowl of a stand mixer, beat together all wet ingredients until well incorporated. Use a handheld electric mixer if not using a stand mixer.
Add in the dry ingredients, making sure to spoon and level the flours to measure, don't scoop from the bag.
Use a whisk to mix together until well combined, but careful not to over-mix. It shouldn't be runny, but definitely won't be thick either. It should resemble a fairly thin pancake batter.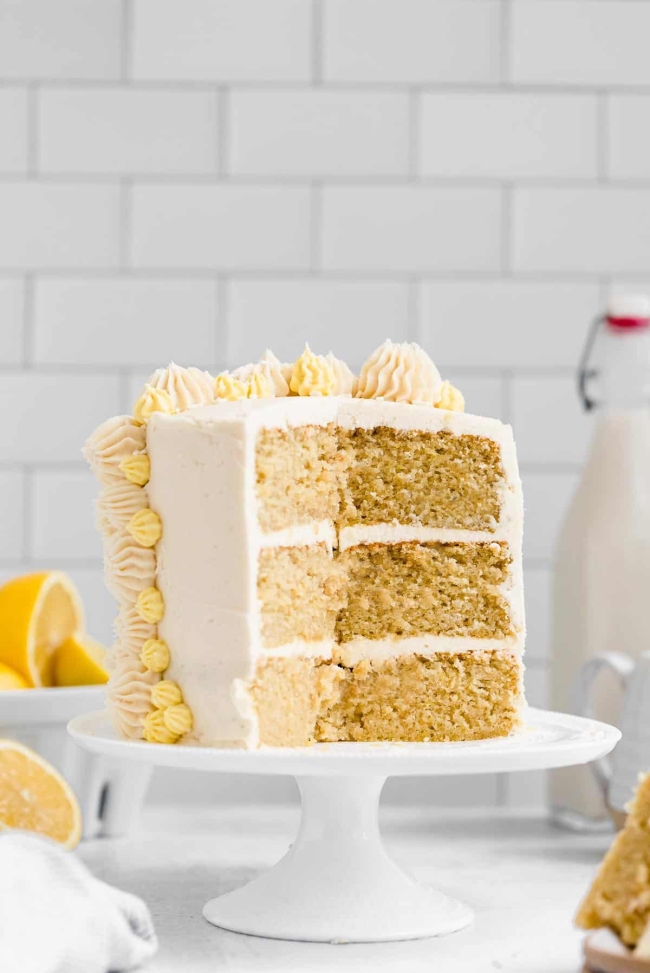 Pour into your prepared pan(s) and add to the oven. The 9x13 will take about 32-40 minutes (mine took 35), the 9 inch will take closer to 25-30 and the 6 inch about 45 (they're smaller but the layers will be fairly thick so they need to bake for longer).
Check with a toothpick to test doneness. The top should be golden brown and there should be no jiggling on the inside.
Remove from the oven, let cool for about 10 minutes, then carefully flip onto a cooling rack and peel off the parchment paper. If you're making a sheet cake, you are welcome to leave it right in there and frost it in the pan for easy storage.
Let cool completely before frosting. I suggest sticking in the fridge for about an hour to ensure it's fully cool.
To make the buttercream, add the room temperature butter to the bowl of a stand mixer or large mixing bowl and beat until well combined. I like using a stand mixer for buttercream, but a hand mixer will work!
Beat in the sifted powdered sugar, 1 cup at a time until your desired consistency is reached. I used about 4 cups for this recipe. To make it thicker, add more sugar, to make it thinner, add more milk. Beat in the milk, lemon juice and zest until well combined.
Frost the cake once cool & enjoy!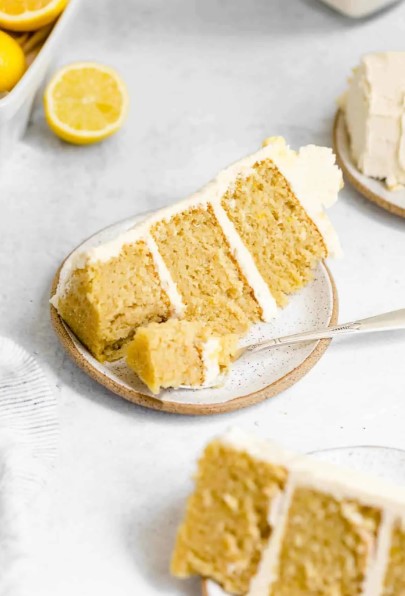 Notes
I highly recommend sticking to the Bob's flour since there is a lot of variation brand to brand, but if you opt to use a different one, just make sure it has xanthan gum in the mix!
Once prepared, this cake will keep for about 3 days at room temperature or 5 in the fridge. Keep in an air tight container or wrapped in foil for best results. 
If you need to make this cake nut free, you can sub the almond flour for an additional 1/2 cup of the gf all purpose flour. The texture will be slightly different, but still delicious!
Serving:
1slice / Calories: 381kcal / Carbohydrates: 69g / Protein: 6g / Fat: 15g / Saturated Fat: 2g / Fiber: 3g / Sugar: 43g