And I had just learned to knit bobble stitch. Well, I think I'll use this beautiful texture stitch for my new
pattern
without a poncho. Let's meet Bubble Gum's cute and easy
crochet
poncho pattern!
Easy crochet poncho pattern in bobble stitch
This textured crochet poncho is made from just 2 rectangles. I choose a beautiful and sophisticated pastel pink color that will make you feel like a princes.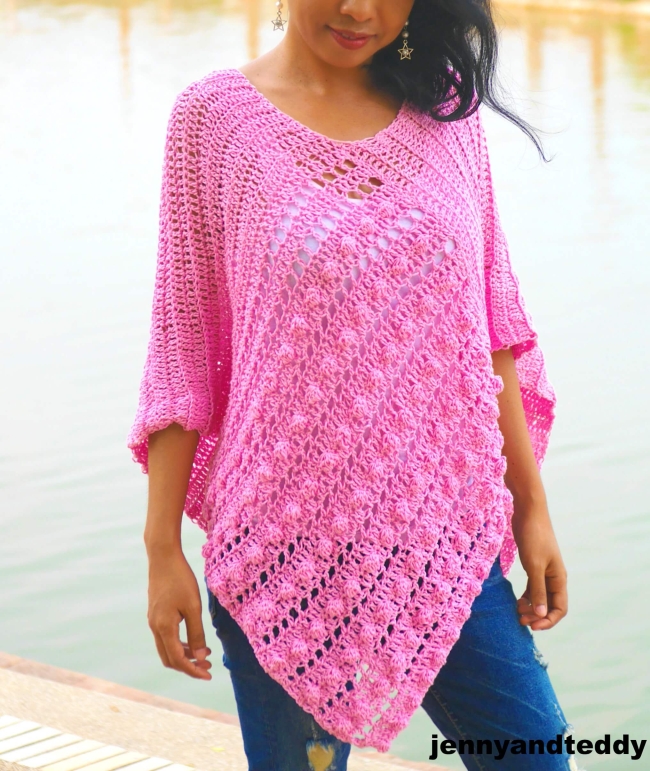 This bubblegum poncho features a beautiful V-neckline that's easy to create.The front panel of this poncho is made by knitting a bobble stitch and then continuing to the back panel using basic crochet stitch.
The best yarn to use in this bobble stitch crochet poncho tutorial?
Cotton Yarn: Well I made this Bubble gun poncho out of 100% DK weight cotton yarn which will give you a playful look and is lightweight and perfect for fall season wear. Also, you will feel comfortable in your skin.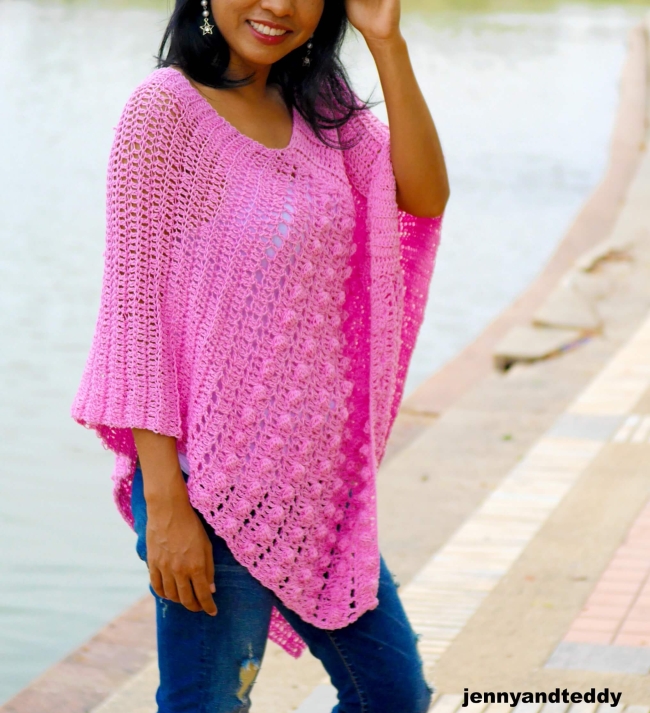 Wool Yarn
– If you want them to be a little warmer and great for winter, just use 100% wool yarn or DK weight wool blend yarn which will keep them toasty on frosty days.
Acrylic Yarn
– Polyester fiber yarn is an inexpensive yarn that I love to use for many of my crochet projects. They give the garment more flexibility and elasticity and keep the heat in your body so that you don't get cold easily in the winter.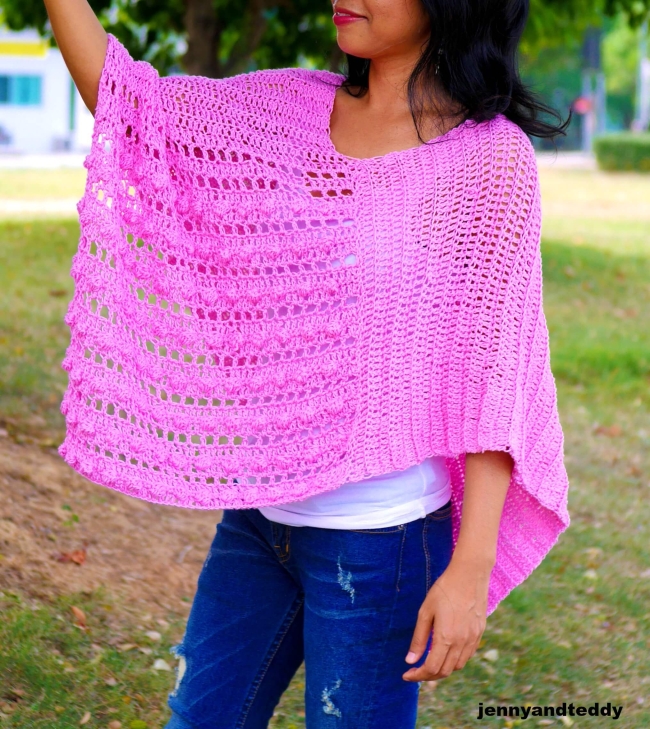 How to make a bobble crochet stitch?
To knit a Bobble Stitch: Insert your hook into the stitch you want to make the yarn over, then pick up one loop and through the yarn over, pull through 2 loops.Then, insert your hook into the same stitch and repeat that 4 times until you have 6 loops on your hook; then yarn over, go through all 6 loops and single in next st. Full Bobble!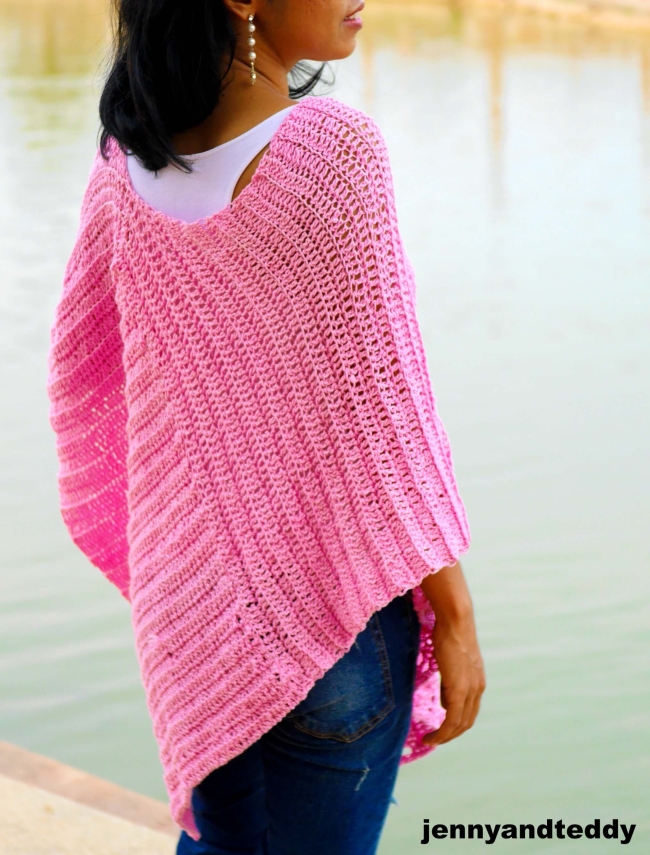 Supplies & material
I used cotton DK-weight yarn. I am using about 6-7skein around 1,200-yard fit size small to Large.( easy to adjust the size. See pattern instruction below)Color is pink4.0 mm crochet hookSewing yarn needleGauge: 3 double crochet stitches = 1 inchNote: we are crocheting this poncho loosely, not too tight.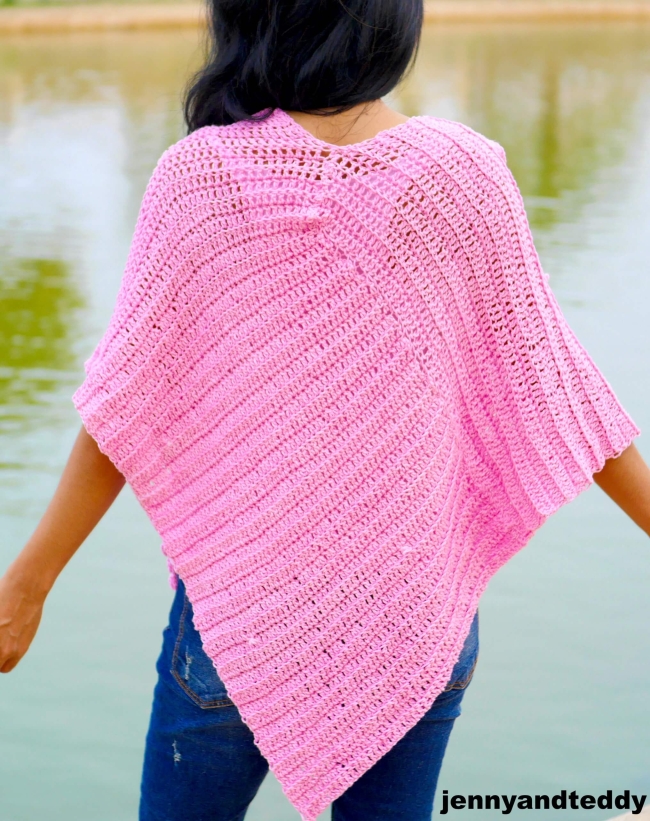 Skill and abbreviations
(American crochet terms)
You will need to know how to make
St, which means stitch
sc which means single crochet
dc, which means double crochet
Blo, which means crochet in the back loop only
ch, Chain
slip knot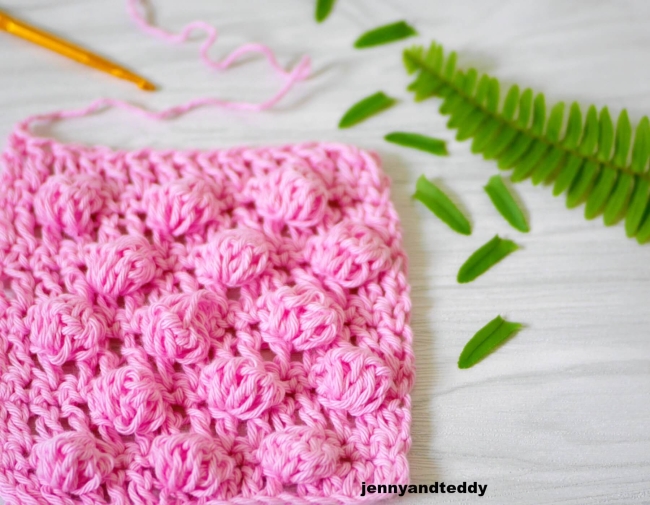 Let's get into it!
The chain will be multiple of 4   for the foundation.In this small sample I start with chain 16Row1.  as see in pic number1-2, make dc in next ch from hook and across until the end of the row. (15)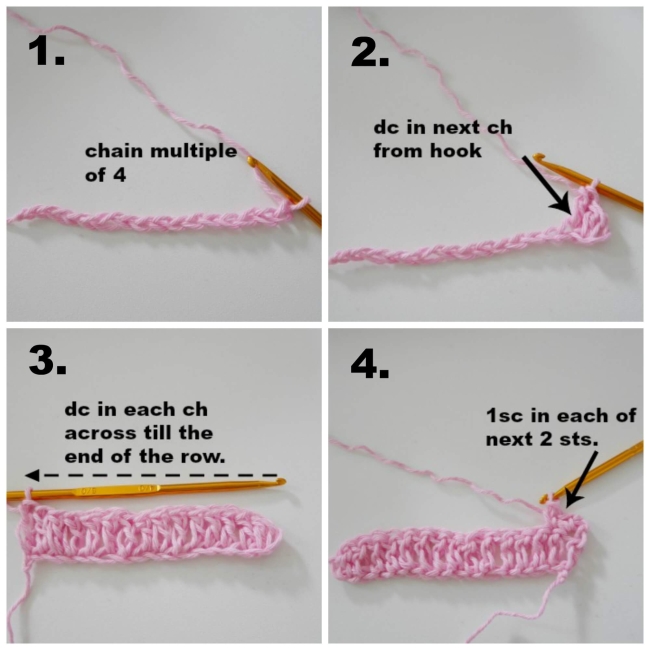 Row2. ch1 turn, 1sc in next 2 sts as see in pic number 4 above, then make bobble stitch in the next st by  yarn over insert your hook into next stitch pull up a loop then pull through 2 loop and repeat this 4 time until we have 6 loop on our hook then yarn over pull through 6 loop, and sc in each of the next 3 stitches.then we will repeat * bobble st in next st, then sc in next 3 sts*At the end of the row make sc in last 4 sts.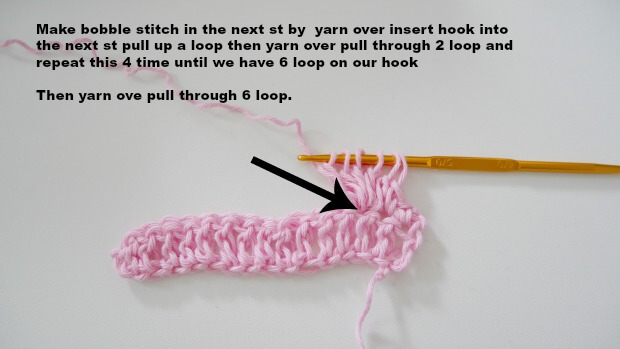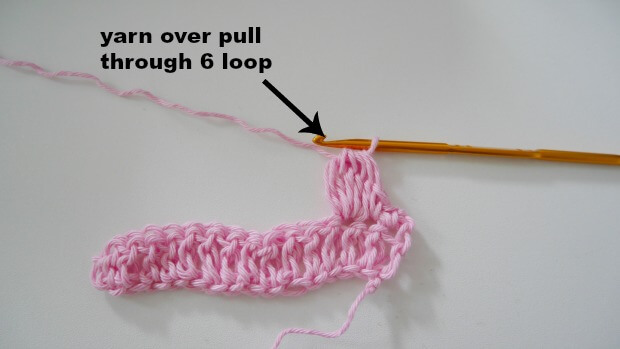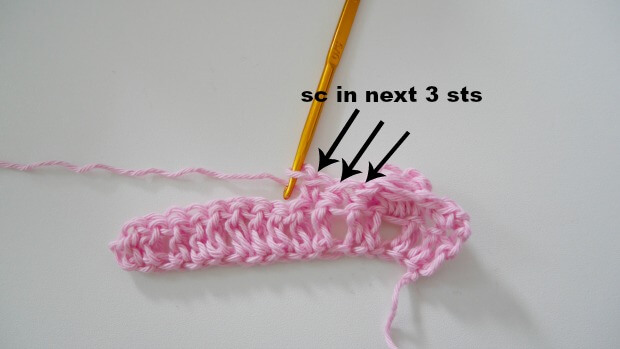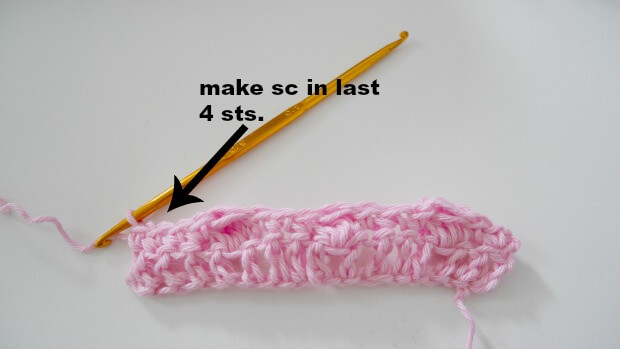 Row3. ch1 turn, make dc in each stitch across until the end of the row.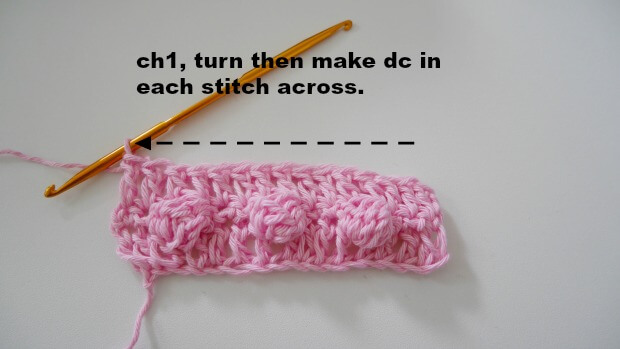 Row4. ch1 turn,
 sc into first 4 sts. *Bobble stitch into next stitch, sc into next 3 sts*. Repeat between * and * until you have 2 sts left then make sc in each of the last 2 sts.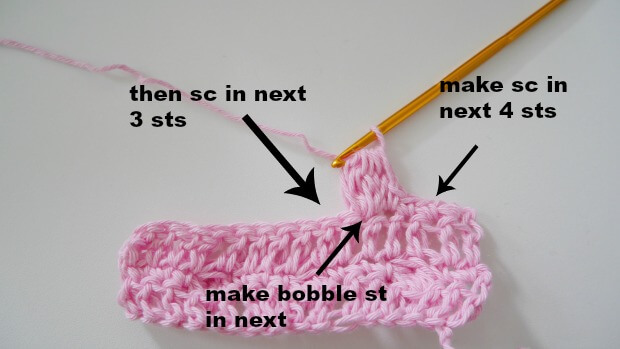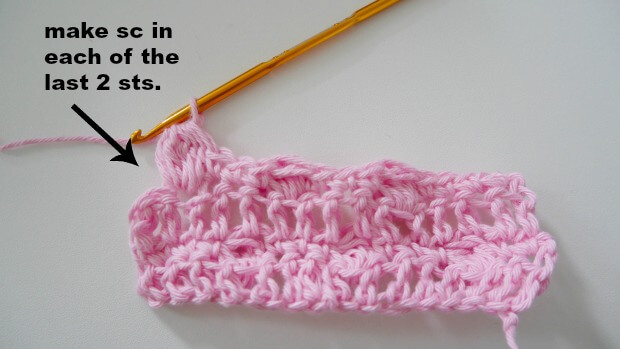 Row5: 
repeat row3.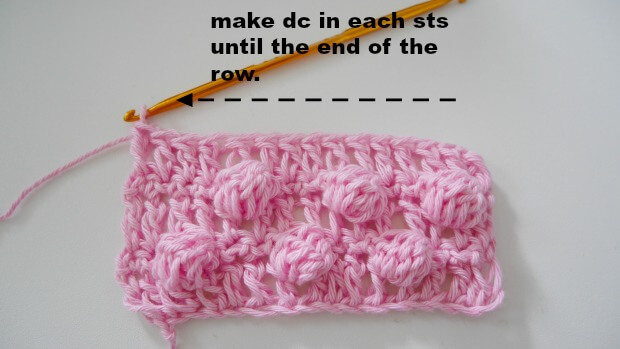 Row6: repeat row2.
Row7: repeat row3.
Row8: repeat row4.
Keep Repeating row 5-8 until  you get your desired length.
All done!
Hope you guys enjoy the pretty 3d pop up bobble stitch.