Breezy Elegance: crochet Summer Lace Tunic Tutorial
As the temperature rises, it's time to embrace the lightweight and stylish garments that capture the essence of summer. In this tutorial, we'll guide you through the steps to crochet a beautiful summer lace tunic. This airy and fashionable piece will keep you cool and chic during the sunny days ahead.Tunic by Pat Menchini
Sizes
To fit:
76-81 [86-91:97-102:107-112:117-122]cm (30-32[34-36:38-40:42-44:46-48]in)
Actual measurement:
88[98:108:118:128]cm (34.5[38.5:42.5:46.5:50.5]in)
Length to shoulder:
72[72:72:77:77]cm (28.5[28.5:2.5:30.5:30.5]in)
Figures in square brackets refer to larger sizes:
where there is only one set of figures this applies to all sizes.
Materials Needed:
SMC Select Reflect
48% cotton, 52% viscose (approx 120m per 50g)
7[8:8:9:9] x 50g balls 04104 Beige
1 pair 5.5mm needles
Row counter
Note:
Yarn amounts given are based average requirements and are approximate.
Tension
25 sts and 24 rows to 10cm over patt using
5.5mm needles
Use larger or smaller needles if necessary to obtain correct tension.
Abbreviationssk2po =
slip 1, knit 2 sts together, pass slipped st over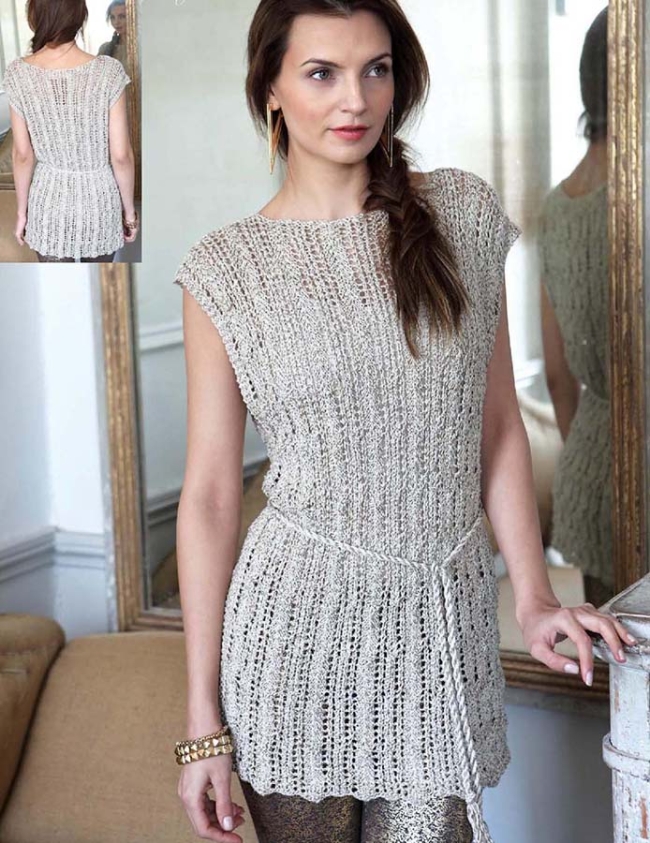 Back and front (booth alike)
Using 5.5mm needles, using the thumb method, cast on 106[119:132:145:158] sts loosely and evenly.
Knit 1 row
Work in patt as folls:
Row1 (RS):
K4, yfwd, k2, (sk2po, k2, yfwd, k1, yfwd, skpo, k2tog, yfwd, k1, yfwd, k2) to last 9 sts, sk2po, k2, yfwd, k4.
Row 2:
Knit.
Rows 3 to 4:
As Rows 1-2.
Row 5:
As Row 1.
Row 6:
K4, p to last 2 rows 4 sts, k4.
Rows 7 - 14:
Rep last 2 rows 4 times.
These 14 rows from patt.
Cont in patt until work meas approx 68[68:68:73:73]cm
(26.75[26.75:26.75:28.75:28.75]in) from beg, 
ending after Row 14.
Now rep 1 again.
Cast off knitways loosely and evenly.
Belt
Decide the finished lenght of belt you would like; now multiply this lenght by 3 and add a further 10cm (4in) to this figure. Cut 9/10 strands of yarn to this lenght. Get a friend to hold one end of the strands and you hold the other end. Twist the strands until the "rope" is tight enough to flip back on itself. Bring the 2 ends together and make a knot about 8cm (3in) from each end. Trim the ends to from tassels.
To finish off
Join the outer 15[16:18:19:21]cm
(6[6.25:7:7.5:8.25]in) of front and back cast-off edges to from shoulder seams. Now join side edges leaving approximately 27[28:30:31:33]cm (10.5[11:11.75:12.25:13]in) free for armhole slits.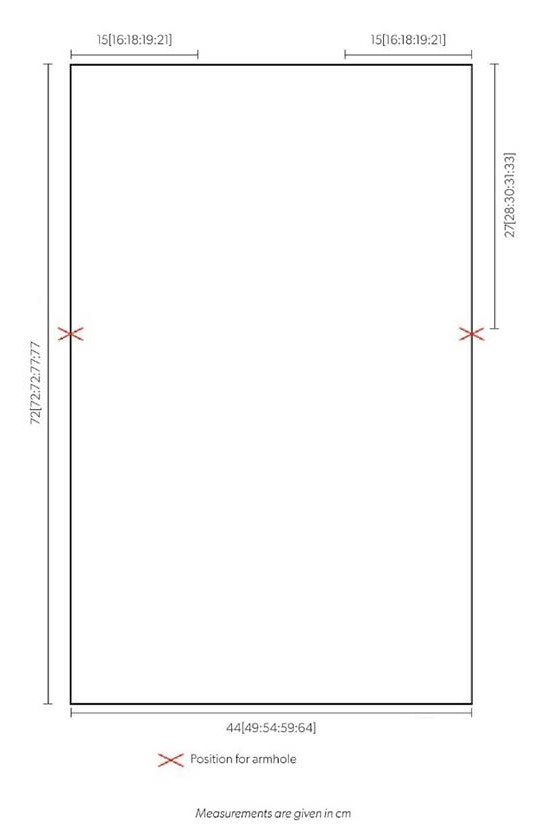 To add extra flair, consider crocheting a border around the neckline, hem, and armholes. You can use simple stitches like single crochet or create a more intricate border pattern.Try on your completed tunic to ensure the fit is as desired. If adjustments are needed, you can modify the length or make minor alterations to achieve the perfect fit.Congratulations! You have successfully crocheted a breezy summer lace tunic. This elegant and lightweight garment is ideal for warm days, allowing you to embrace comfort without sacrificing style. Wear your handmade creation with confidence and enjoy the effortless grace it brings to your summer wardrobe.