Shrimp salad recipe
Ingredients:
1 pound raw shrimp, peeled and deveined
2 tablespoons olive or avocado oil, divided (I use avocado oil for cooking and olive oil as a drizzle/dressing)
1-2 fresh garlic cloves, minced or pressed
2 large avocados, diced
8 mixed cherry tomatoes, halved
1 green chile, seeded and sliced
a good handful of fresh cilantro leaves or flat-leaf parsley, chopped
1 large fresh lemon, both juice and zest
sea salt and fresh ground black pepper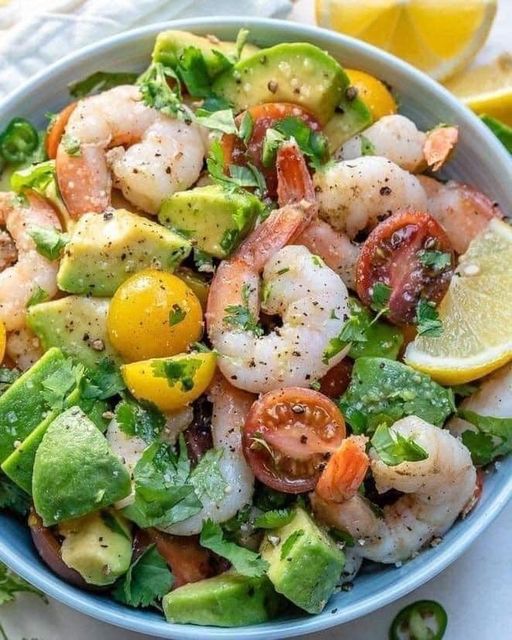 Preparation:
Heat a tablespoon of oil in a large skillet over medium-high heat. Add the shrimp and minced garlic, then cook for 3-4 minutes, or just until the shrimp turn pink and are no longer translucent.
Season shrimp with sea salt and pepper to taste, remove from heat. In a large bowl, add the cooked shrimp, diced tomatoes, diced avocado, sliced chile, and chopped cilantro leaves.
Drizzle with the remaining tablespoon of oil and squeeze in the fresh lemon juice, add the zest, then stir very gently to combine everything. Adjust seasonings to your liking.
Adjust the seasonings to your liking and enjoy! I prefer to eat this salad within a few hours of making it, but it keeps well in the fridge for a day or two.
Enjoy!