Mulled Wine Chocolate Wreath recipe
Ingredients:
Serves 8
75ml port
3 large eggs
350 ml milk
185g butter, melted and cooled
400g caster sugar
grated zest and freshly squeezed juice of 1 orange
1 teaspoon vanilla paste
a generous pinch of salt
335g plain flour
125g cocoa powder
2 teaspoons baking powder
2 teaspoons bicarbonate of/ baking soda
1/4 teaspoon ground cloves
1 tablespoon ground cinnamon
1/4 teaspoon ground nutmeg
winter fruits, to decorate
FOR THE GLAZE
75g dark chocolate, broken into pieces
75g butter, cut into cubes
1 tablespoon golden syrup
50ml port
EXTRAS:
a 25-cm/10-in. cake ring, greased and floured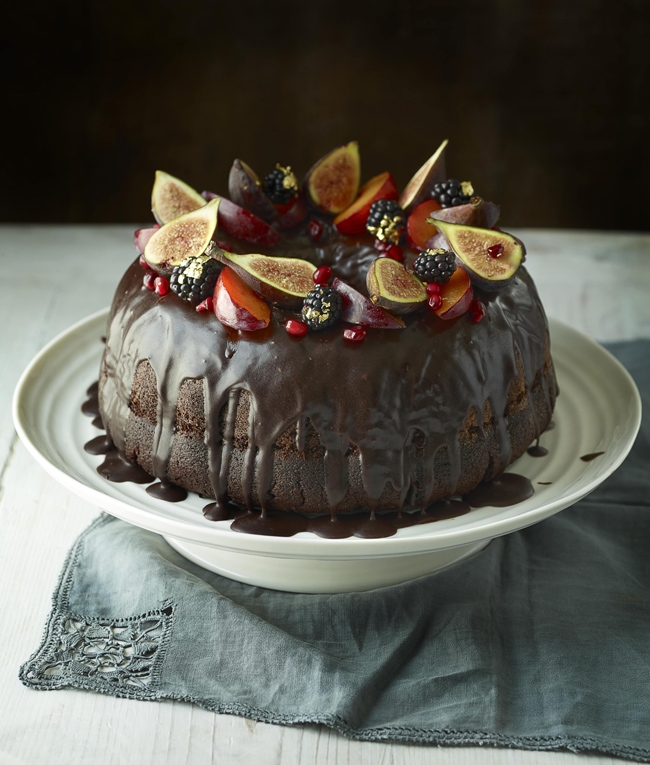 Directions:
Preheat the oven to 180°C (350°F) Gas 4.
Heat the port in a saucepan set over a gentle heat until just boiling. In the meantime, whisk together the eggs, milk and melted butter in a large mixing bowl.
Mix in the sugar, orange zest and juice, vanilla and salt.
Sift in the flour, cocoa and raising agents and add the spices before whisking until thoroughly combined. Continue to whisk while gradually adding the hot port. The batter will be very wet.
Pour the mixture into the prepared cake pan and bake in the preheated oven for 40–45 minutes, or until an inserted skewer comes out clean. Leave the cake to cool in its pan on top of a wire rack for 10 minutes, before turning out and leaving to cool completely.
Put all of the glaze ingredients into a small pan set over a gentle heat and stir until the chocolate and butter have melted and the glaze is streak free. Leave to cool until thick enough to pour without it rolling off the sides of the cake.
Place a sheet of baking parchment underneath the wire rack to catch any drips. Pour the glaze over the cold cake. Decorate with winter fruits and leave the cake to set completely at room temperature before transferring to a serving plate or cake stand.