What is the Intertwine Pullover?
The Intertwine Pullover is a free
crochet
sweater pattern
with a braided faux cable. The
sweater
includes instructions for nine sizes, from X-Small to 5X, and measurements needed to determine size.
Gathering Supplies
*  
Yarn:
For this pattern, you will need a worsted-weight yarn. You can use any brand that you prefer; I used Lion Brand Vanna's Choice in Pistachio. If your gauge is different than mine, make sure to check the label of your chosen yarn for its recommended hook size so that you can get the correct gauge!*  
Crochet hook:
You'll want to use an H (5mm) hook for this project because it has such a nice drape and helps keep things from getting too tight on your stitches as they grow larger at times during construction.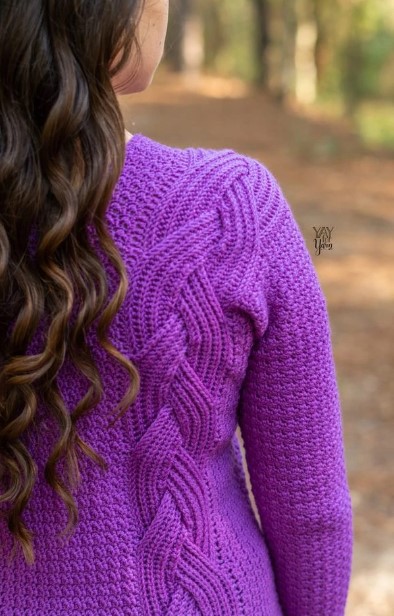 *  
Scissors:
To cut off ends after finishing each round of crocheting! I also find it helpful when cutting out pieces from the fabric before sewing them together later--this way there aren't any stray threads hanging around after cutting into them with scissors instead of sewing overtop those same threads again later on down the line...and then having them poke out through seams while wearing something new :)*  
Tapestry needle:
For weaving in ends once all pieces are sewn together; also useful when working with thicker weight yarns like mine where smaller sized needles aren't necessary but still need some extra strength behind them during stitching processes such as attaching sleeves into armholes without stretching out too much due to their greater bulkiness compared against other parts like shoulders/back neckline etcetera...
Stitches Used
The stitches used in this
pattern
are:*   Single crochet (sc)
*   Double crochet (dc)
*   Half double crochet (hdc)
*   Chain stitch (ch)
*   Slip stitch (sl st)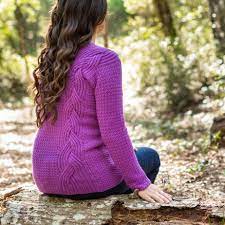 Gauge
Gauge is the number of stitches and rows you get in a certain amount of space. For example, if you make 4 single crochet stitches by 4 rows, then your gauge is 1 inch.In this pattern, we'll be working with a gauge of 16 stitches per 4 inches (or 2 cm).
Sizing
The Intertwine Pullover is available in 4 sizes: X-Small, Small, Medium and Large. The X-Small will fit a bust size 30" to 34"; the Small will fit a bust size 34" to 38"; the Medium will fit a bust size 38" to 42"; and the Large will fit a bust size 42" to 46".The following measurements are taken from the finished garment after blocking (see page 19). To determine which size you need, measure yourself over your favorite shirt/sweater or similar garment that fits well on you now. If you're between sizes or want more room for comfort in this top then choose one size larger than your actual measurement--the extra ease should be just enough without making it look sloppy!
Crochet Instructions
The Intertwine Pullover is worked in two pieces: the front and back panels. The sleeves are also worked as separate pieces, which are then seamed to the body of the sweater.The neckline and cuffs are finished with a simple crochet bind-off technique that gives them a neat finish without adding bulk or stiffness.The faux cable pattern is created by alternating single crochets with double crochets in different colors; this creates an eye-catching design without having to work any complicated stitches!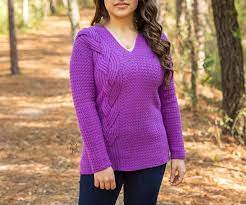 Finishing Touches
*   Weave in any remaining ends.
*   Block if desired.
Tips for Success
*   Read through the pattern before beginning.
*   Use stitch markers to keep track of rows.
*   Take gauge measurements to ensure a good fit.I hope you've enjoyed this crochet pattern tutorial. If you have any questions or comments, feel free to leave them in the comments section below.Thank you for following along with me! I hope that your
Intertwine Pullover
turns out beautifully and that it becomes one of your favorite go-to
sweaters
.