How to successfully grow Christmas cactus in a pot at home?
Growing a Christmas cactus (Schlumbergera) in a container can be a rewarding experience, as these plants produce vibrant and long-lasting blooms during the holiday season. Here are some tips to help you successfully grow and maintain a healthy Christmas cactus in a container:
Container and Soil:
Use a well-draining potting mix with a slightly acidic to neutral pH. A mix formulated for cacti or epiphytic plants can work well.
Choose a container with drainage holes to prevent waterlogging.
Light:
Christmas cacti prefer bright, indirect light. Place your plant near a window where it receives filtered sunlight or morning sunlight. Avoid direct afternoon sunlight, as it can be too intense and may scorch the leaves.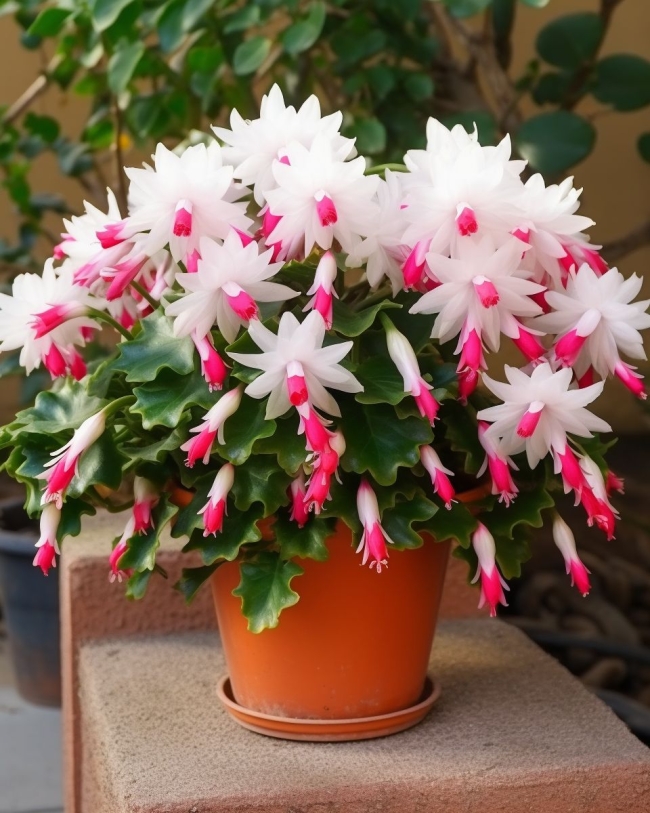 Temperature:
Keep your Christmas cactus in a cool to moderate temperature range. They thrive in temperatures around 60-70°F (15-24°C) during the day and slightly cooler at night.
Humidity:
Maintain higher humidity levels, as Christmas cacti are native to the rainforests of Brazil. You can increase humidity by placing a tray of water near the plant or using a humidifier.
Watering:
Keep the soil consistently moist but not waterlogged. Water when the top inch of the soil feels dry to the touch.
Use room temperature water, and water the plant thoroughly, allowing excess water to drain out of the bottom of the pot.
Fertilizing:
Fertilize your Christmas cactus with a balanced, water-soluble fertilizer during the growing season (spring and summer). Reduce or stop fertilizing in the fall and winter when the plant is not actively growing.
Pruning:
Prune your Christmas cactus after flowering to encourage bushier growth. Pinch back the stems or use clean scissors to cut back individual segments. You can propagate the cuttings to grow new plants.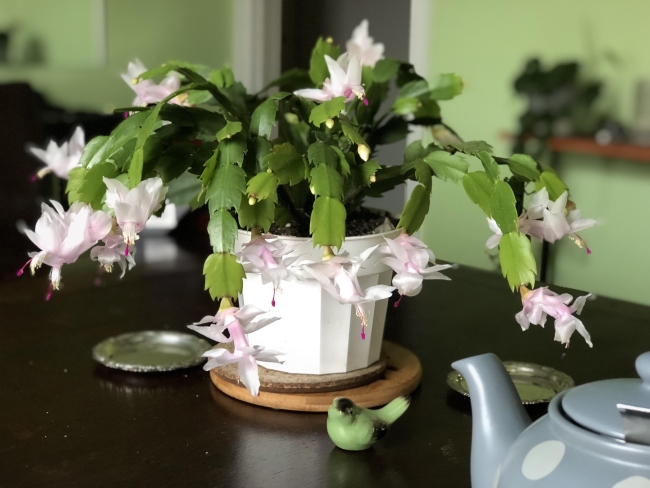 Blooming:
To encourage blooming, provide a period of cool temperatures (around 50-55°F or 10-13°C) for about 6 weeks in the fall. This can be achieved by placing the plant in a cooler location or reducing the temperature in the room.
Pests and Diseases:
Keep an eye out for pests like spider mites and aphids. Treat any infestations promptly with insecticidal soap or neem oil.
Avoid overwatering to prevent root rot, a common issue with Christmas cacti.
Pot Size:
Repot your Christmas cactus every 2-3 years or when it outgrows its current container. Choose a pot that is only slightly larger than the current one to prevent overwatering.
By providing the right conditions and care, you can enjoy a healthy and vibrant Christmas cactus that blooms reliably each holiday season.