Creating Elegance: Crocheting Your Own Table Supla
Welcome to my cozy corner of
crochet
enthusiasts! Today, I'm thrilled to share a delightful project that will add a touch of sophistication and handmade charm to your dining experience - crocheting your very own table supla! If you love to crochet and enjoy beautifying your home, this is the perfect creative endeavor for you.
What is a Table Supla?
If you're new to the term "supla," let me introduce you to this wonderful creation. A table supla, also known as a decorative placemat, is a crocheted or knitted piece designed to protect your table from spills and stains while adding elegance and style to your table setting. These charming accents come in various patterns and colors, allowing you to customize them to match your home decor and personal taste.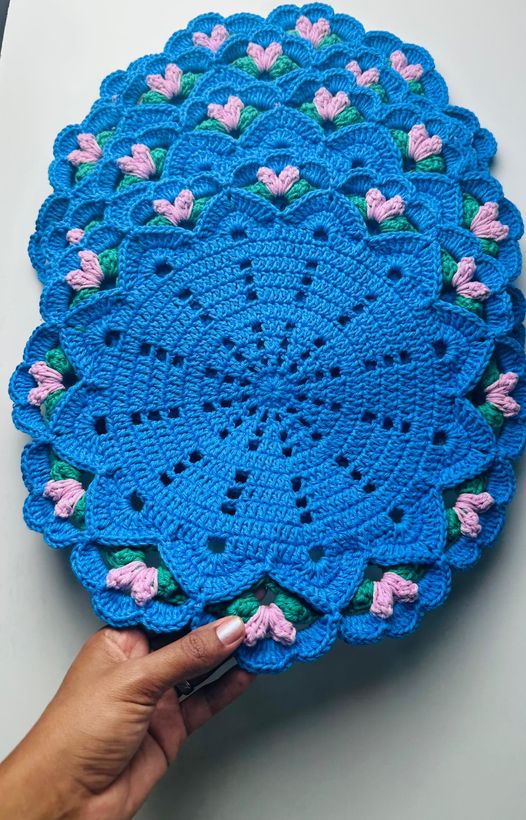 Why Crochet a Table Supla?
Personalized Touch: Crocheting your own supla allows you to infuse your unique personality into your home decor. You can choose the colors and patterns that resonate with you, making your dining area truly one-of-a-kind.
Homey Atmosphere: Handmade items bring warmth and coziness to any space. A crocheted table supla adds a sense of comfort and charm to your dining area, making your guests feel welcome and relaxed.
Eco-Friendly Option: By opting for handmade crochet pieces, you're contributing to sustainable living. Using yarn instead of disposable placemats is an eco-friendly choice that reduces waste and promotes a greener lifestyle.
Materials You'll Need
Before diving into this creative endeavor, let's gather our supplies:
Worsted weight yarn in your preferred color(s) for the supla.
Crochet hook suitable for the yarn weight.
Scissors.
Yarn needle for sewing and weaving in ends.
Getting Started
Now that you have your materials, it's time to begin crocheting your table supla:
Choose Your Pattern: Browse through various crochet patterns to find the one that speaks to you. Whether it's a delicate lace design, charming floral motifs, or a classic geometric pattern, select a style that complements your dining table.
Gauge and Measurements: Before you start, make a swatch to ensure your gauge matches the pattern's requirements. Measure your table to determine the dimensions for your supla. Remember to leave some space for a stylish border if desired.
Crafting with Love: Crochet each stitch with care and love. This project is not just about creating a functional item; it's about pouring your creativity and passion into something special for your home.
Final Touches
Once your supla is complete, take a moment to appreciate the beauty of your handmade creation:
Block Your Supla: To ensure your supla lays flat and showcases the stitch pattern, block it using steam or wet blocking.
Set the Table: Place your newly crocheted table supla on your dining table, and witness how it instantly transforms the ambiance. Your guests will surely admire your skill and creativity!
Crocheting your own table supla is a delightful way to infuse elegance and personal touch into your dining area. By investing time and effort into this project, you're creating an exquisite and practical piece of decor that will grace your table for many meals to come.Happy crocheting, my fellow artisans!