Crochet Cat Flower Vase: Whimsical Home Decor with Feline Charm
If you're a cat lover and a
crochet
enthusiast, why not combine your passions and create a crochet cat flower vase? This adorable and whimsical home decor piece adds a touch of feline charm to any room. In this blog post, we'll guide you through the steps of crocheting your very own cat-shaped flower vase, allowing you to showcase your crochet skills and add a delightful handmade accent to your living space.
The Charm of a Crochet Cat Flower Vase
A crochet cat flower vase is a unique and creative way to display your favorite flowers while celebrating your love for cats. The playful and whimsical design of a cat-shaped vase adds a touch of personality and joy to any room. Whether you place it on a shelf, mantel, or dining table, this handmade piece is sure to bring a smile to your face.
Materials You'll Need
Before you begin crocheting your cat flower vase, gather the following materials:
Medium-weight yarn in your chosen cat colors (e.g., gray, brown, black, or your favorite cat breed colors)
Crochet hook appropriate for your yarn weight (check the yarn label for recommendations)
Scissors
Yarn needle for weaving in ends
Plastic or glass vase (select a size that suits your preference)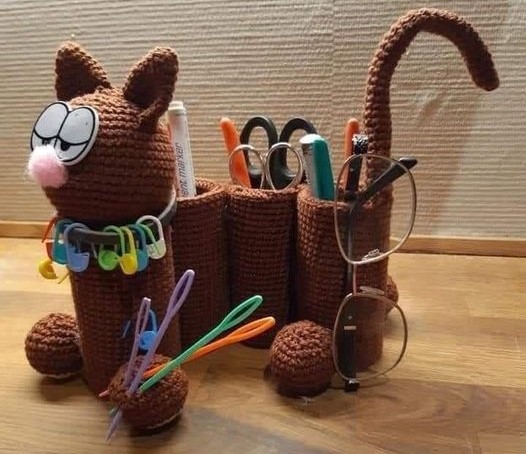 Creating Your Crochet Cat Flower Vase
Follow these general steps to crochet your own cat flower vase:
Start by crocheting a rectangular piece that will wrap around the vase. The size of the rectangle will depend on the dimensions of your vase. Make sure to leave openings for the flowers to peek through.
Once the rectangle is complete, fold it around the vase and sew or crochet the sides together, leaving the top and bottom open.
Next, crochet the cat face and ears separately. Use your chosen cat colors to bring the cat's features to life.
Attach the cat face and ears to the front of the vase cover, ensuring they are securely fastened.
Embellish your crochet cat flower vase with details such as embroidered eyes, a nose, whiskers, or a collar.
Insert your favorite flowers into the vase, making sure they are arranged beautifully and can be seen through the openings.
Embrace the Feline Whimsy
Once your crochet cat flower vase is complete and filled with beautiful flowers, it's time to display it with pride. Place it in a prominent spot in your home to add a touch of feline whimsy to your decor. Enjoy the sight of flowers peeking through the cat's adorable face, bringing life and color to your space.
Gift a Cat Lover's Delight
A crochet cat flower vase makes a thoughtful and unique gift for cat lovers in your life. Personalize it by selecting yarn colors that resemble their beloved feline companion or match their home decor. Fill it with their favorite flowers for an extra special touch.
Crochet and Cats: A Perfect Combination
Crocheting a cat flower vase not only allows you to express your creativity but also celebrates your love for cats. Enjoy the process of creating something unique and handmade, and let your cat-inspired creation bring joy and charm to your home.Happy crocheting!