Chocolate cake with pink vanilla frosting recipe & Coolest Pink Chocolate Cake Decorating
Ingredients:
2 cups all-purpose flour
3/4 cup unsweetened cocoa powder , preferably Fry's
1 1/2 tsp baking soda
1 tsp baking powder
1/2 tsp salt
3/4 cup unsalted butter , at room temperature
3/4 cup granulated sugar
3/4 cup lightly packed brown sugar
2 eggs
2 tsp vanilla
1 1/2 cups buttermilk
For Icing:
1 1/4 cups unsalted butter , at room temperature
2 tsp vanilla
4 cups icing sugar , sifted
1/2 cup milk
4 to 6 drops red food colouring , optional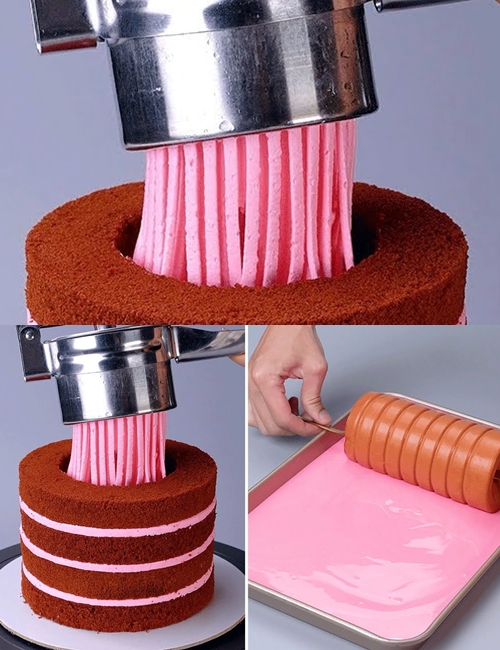 Instructions:
Preheat oven to 325F. Butter 3 9-in. round cake pans and line bottoms with parchment. Sift flour with cocoa, baking soda, baking powder and salt into a medium-sized bowl. Stir until mixed. Beat butter with sugars in a large bowl, using an electric mixer on medium, for 3 min. Add eggs, one at a time, beating well and scraping down sides of bowl after each addition. Beat in vanilla. Reduce speed and beat one-third of flour mixture into butter mixture, then add half the buttermilk. Repeat additions, scraping down sides until well mixed. Divide batter evenly between pans and smooth tops.
Bake in centre of oven until a cake tester inserted in centre of cakes comes out clean, 25 to 30 min. Cool in pans on a rack for 10 min. Run a knife around inside edge of each pan, then turn cakes out onto rack. Remove parchment. Let cool completely, about 1 hour. Meanwhile, prepare icing.
Beat butter for icing in a large bowl, using an electric mixer on medium, until creamy, 1 min. Add vanilla and 1 cup icing sugar. Beat for 1 min. With mixer on low, add remaining sugar in 3 parts, alternating with milk and ending with sugar. Beat on medium-high, scraping down sides of bowl as needed, until fluffy and smooth, 1 to 2 min. Beat in food colouring until desired colour is achieved. Spoon half of frosting into a piping bag fitted with a large, round tip. Reserve remaining frosting.
Assemble by placing one layer on a large plate or cake stand. Pipe a border around the edge of the cake. Scoop 1/3 of remaining frosting into centre of the cake. Using a spatula, smooth frosting to the edge, keeping inside the piped border. Top with another cake layer. Repeat frosting and layering with remaining frosting and cake layers. Then spread remaining frosting on top, smoothing or swirling surface. Cake can be refrigerated up to 1 hour to firm icing before serving.
Nutrition (per serving)Calories 652, Protein 6 g, Carbohydrates 87 g, Fat 33 g, Fibre 2 g, Sodium 330 mg.